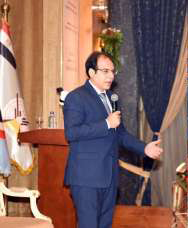 The main symposium of the Armed Forces Training Authority, titled "The Role of Science and Technology in Modern Wars," within the framework of the General Command of the Armed Forces' continuous follow-up to all scientific and research activities that take place in all armed forces bodies and departments.
The symposium included two scientific sessions that dealt with a number of topics in the fields of information warfare, cyber-attacks and unmanned aircraft systems by a number of experts, strategic analysts, university professors and specialists from the Armed Forces.
The symposium concluded the need to take advantage of the huge and continuous technological development in the field of artificial intelligence and cyber-security and their role in modern battles, as well as benefiting from expert studies in the field of unmanned aerial vehicles in connection with the growing current and future challenges facing military systems globally, and mobilizing energies to confront all threats that affect the Egyptian national security.
See the word of the Military Spokesperson for the Armed Forces, from here
For more info, click here