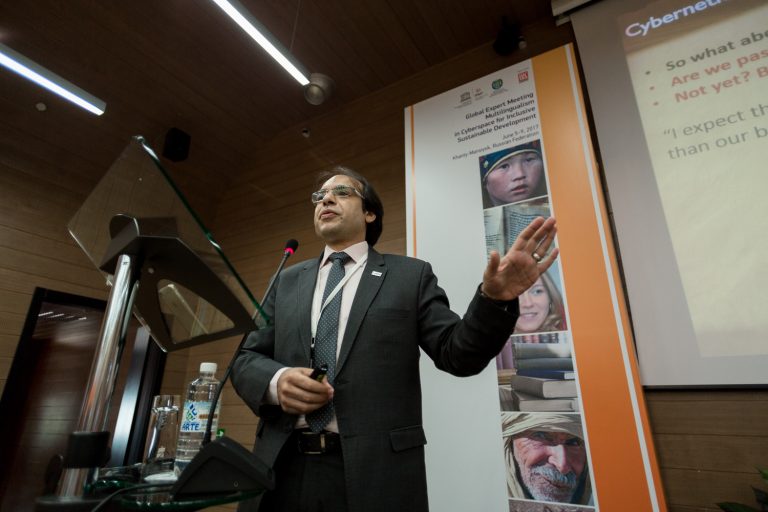 The Global Expert Meeting "Multilingualism in Cyberspace for Inclusive Sustainable Development" was successfully hosted in Khanty-Mansiysk, Russian Federation, from 5 to 9 June 2017, in the framework of the IX annual International IT Forum, organized with SCO and BRICS participation with a goal to strengthen the international cooperation in the digital era and promote innovative technologies. It gathered around 2700 participants from some 46 countries, including government representatives, private companies and IT specialists.
Dr. Mohamed El-Guindy participated in the UNESCO conference and delivered a presentation titled "Arabic Language in the Age of Cyberculture". The presentation was visual presentation to dedicated paper on the topic that will be published in the conference proceeding.  The paper described the impact of cyberspace on both language and culture and its effect on the Arabic language.
the Global Expert Meeting initiated by UNESCO's Information for All Programme (IFAP), was the first-ever international forum to address the importance of multilingualism and linguistic diversity in the implementation of the sustainable development goals. The meeting was organized by the Russian Committee of the UNESCO Information for All Programme in cooperation with the Government of the Khanty-Mansi Autonomous Area – Ugra, UNESCO's Institute for Information Technologies in Education, the Commission of the Russian Federation for UNESCO and the Ministry of Education and Science of the Russian Federation.
This major event gathered some 100 representatives of intergovernmental, regional and national public and private organizations, universities and research centres from the following countries: Argentina, Benin, Brazil, Central African Republic, China, Colombia, Czech Republic, Dominican Republic, Egypt, France, Ghana, Georgia, Germany, India, Iran, Italy, Kazakhstan, Latvia, Moldova, The Netherlands, Norway, Palestine, Paraguay, The Philippines, Russian Federation, Romania, South Africa, Spain, Sudan, Switzerland, Syria, United Kingdom, USA and Zambia. Dr El-Guindy represented Egypt in this high level conference.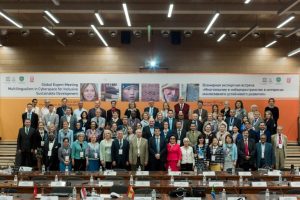 For more information, check UNESCO website